Formats
DIGITALE
OFFERS
High reach advertising via our premium native network
Simple and effective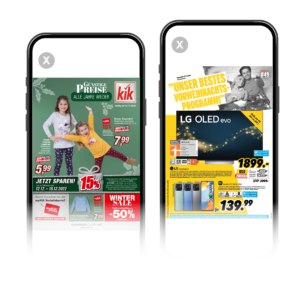 Address digitally with the help of the classic advertising format – the brochure
Your benefits
Familiar
The digital brochure is close to the reading habits of customers in the area of offer communication.
Quick to implement
For a digital campaign, your brochure is required as a PDF file, which keeps your effort low
Measurable
With the help of data science, we measure the success of your campaign down to the branch level.
INTERNATIONAL NATIVE NETWORK
Using various formats for maximum visibility to all target groups at different stages of the buying process.